McDonald Observatory May SkyTips
May 1st, 2012 at 2:34 pm by
Jim Spencer
under
Weather
The central event of the month, and one of the skywatching highlights of the year, takes place during the daytime: an annular eclipse of the Sun, which carves a narrow path across the western United States. An annular solar eclipse will dim the skies along a narrow path in the western United States on May 20, with a partial eclipse visible across most of the rest of the country. After dark, some of the signature star patterns of summer begin their climb to prominence, including the Summer Triangle, which rises in late evening, and sinuous Scorpius, the scorpion, which is in full view at midnight by month's end.
In addition to our May eclipse coverage, we have information on the second half of a twice-in-a-lifetime event: the June 5 transit of Venus across the Sun.

More stargazing information »



Hear StarDate every day on more than 300 radio stations nationwide.

Premium Audio: Listen to today's program today on-demand with a paid subscription to StarDate premium audio.May 1-6: A cold "Earth."The largest moon of Saturn is like an icy version of Earth. A methane rain falls from the sky, filling rivers and lakes. And the chemical building blocks of life seed its air and its surface. Join us for the moon Titan.May 7-13: Testing Einstein. When it comes to gravity, Albert Einstein is the heavyweight champion. So far, his theories have knocked out all the challengers — but they keep on coming. Join us for tests of General Relativity plus much more.May 14-20: Ring of fire. A special type of solar eclipseis coming up on Sunday afternoon for the western United States — one that will encircle the Moon with a bright "ring of fire." Join us for this plus a lab where they're cooking up giant mirrors.May 21-27: The strongman. Hercules climbs high across the sky on spring nights, and we'll have details on the constellation and some of its sights — including an ancient "city" of a million stars. Join us for this and much more.May 28-31: Moon meanderings. The Moon passes a whole passel of bright lights this week — the planet Mars and the heart of the lion early in the week, with an even closer encounter with the leading light of Virgo later on. Join us for this and more.
Primo skywatching events are coming up! Our May/June issue brings you details on the May 20 solar eclipsefor the western United States, as well as the scoop on the transit of Venus in early June. We also bring you up to date on one of the world's fastest growing space programs: China.
Subscribe today
»



Response to our posted June and July 36-inch Special Viewing Night programs has been high with several nights already booked up. To make sure as many visitors as possible get the opportunity to participate in these amazing observing programs, we've added several dates. Be sure to make your reservations soon!

Find out more»

At every level of government, civic and elected leaders speak in agreement about the need to improve science, technology, engineering, and mathematics (STEM) opportunities in elementary and secondary schools nationwide. McDonald Observatory has worked for decades with this mission in mind, giving teachers the tools they need for lesson planning and classroom instruction. Please help us continue this work by making a donation to McDonald Observatory's 2012 Annual Fund. Gifts are 100% tax-deductible and any amount helps.
Donate now
»
Science Instrument Named for George and Cynthia Mitchell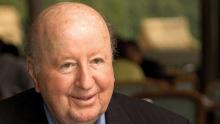 The University of Texas at Austin has named an innovative astronomical instrument doing groundbreaking work at McDonald Observatory after pioneering energy producer, real estate developer, and philanthropist George P. Mitchell and his late wife Cynthia Mitchell. University representatives including McDonald Observatory Director David L. Lambert and Chief Astronomer Gary Hill, along with members of the UT-Austin Astronomy Program Board of Visitors, celebrated the event with Mr. Mitchell and his family at a private event in Galveston April 23.Las Cumbres Telescope Sees First Light at McDonald Observatory
The first of a planned suite of telescopes of the Las Cumbres Observatory Global Telescope (LCOGT) Network achieved first light recently at The University of Texas at Austin's McDonald Observatory.  The 1-meter (40-inch) telescope will be used for both research and outreach to schools. It is part of a large planned network of LCOGT telescopes to be installed around the world.



Keep up with all the news and video from McDonald Observatory on all your favorite social media platforms. "Like" us on Facebook, "follow" us on Twitter, and subscribe to our YouTube channel!

Like us on Facebook: McDonald Observatory | StarDate

Follow us on Twitter: McDonald Observatory | StarDate

Subscribe on YouTube: McDonald Observatory | StarDate



SkyTips is a monthly email newsletter for visitors to McDonald Observatory and StarDate Online. Each issue features stargazing highlights, upcoming StarDate radio program descriptions, and other news. Please feel free to forward this newsletter to your friends and family.

SkyTips is a publication of the University of Texas McDonald Observatory Education and Outreach Office, 2609 University Ave. A2100, Austin, TX 78712. Reproduction of SkyTips content is permitted with proper credit given to McDonald Observatory.