Tracking the Tropics
August 4th, 2012 at 11:55 pm by
David Mazza
under
Weather
Just a week ago I blogged about how the tropics have been pretty quiet so far this year and this is typically the time it starts to pick up.  Sorry!  It was like mother nature heard me taunting her or something.  All of a sudden within a 42 hour period late this week 2 tropical storms formed in the Atlantic.  This is one of the earliest that we have ever seen 6 named storms in the Atlantic Basin.  The last time we saw 6 named storms this quickly was just a few years ago in the record year of 2005.  That year the 9th named storm formed on this day, it became our 4th hurricane of the season in 2005.  Statistically speaking we normally see the 6th named storm of the year in the Atlantic around the 8th day of September, so we are quite ahead of the curve so far this year.   Our Jim Spencer relayed an interesting fact too on the lack of major hurricanes in the United States.  It has been since Hurricane Wilma back in 2005 (2,476 days ago) that we had a major hurricane make landfall in the US.  Not a bad drought for us to be in, and hopefully one that will continue.  At this point the model guidance for Ernesto keeps it south of the US late this work week, and as a weaker hurricane, probably a cat. 1.
In the tropics we also have Tropical Storm Florence that was named earlier today.  Her forecast track does call for minor intensification before hitting an area less favorable for development and then begins to curve into a more sheared environment.  The shear that this system encounters should work to weaken her later this week and should keep her being no threat to land.
I found a few climatology maps on the National Hurricane Center's website that show the formation spots of storms in the Atlantic for the first 10 days of August, and also the likely tracks of storms for the month of August.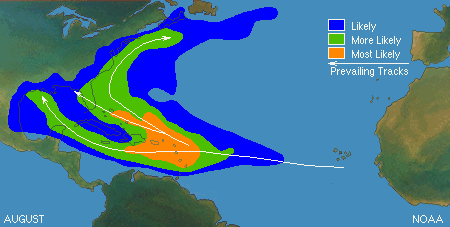 Ernesto formed in an area very typical for storms in early August.  Florence formed in an area that is more typical on mid-August to mid-September when you see more of the long track storms.
The latest hurricane model forecast run has the model tracks a little tighter together with landfall occurring sometime Tuesday night into Wednesday morning between the Yucatan Peninsula and Belize.  You can see them below on the image from the UCAR/NCAR website.