Isaac update, 7 years since Katrina
August 26th, 2012 at 9:57 pm by
David Mazza
under
Weather
**Update**  Here is the latest 10pm (11pm edt) update for TS Isaac.

It was 7 years to the date that we were keeping our eyes on a strengthening storm in the Gulf of Mexico just north of Key West, Florida.  Today, we are watching a tropical storm just south of Key West with a forecast track that is very similar to that of the very destructive Hurricane Katrina.  Both of the below images are from the 5pm August 26th advisories for both Katrina (2005) and Isaac (2012)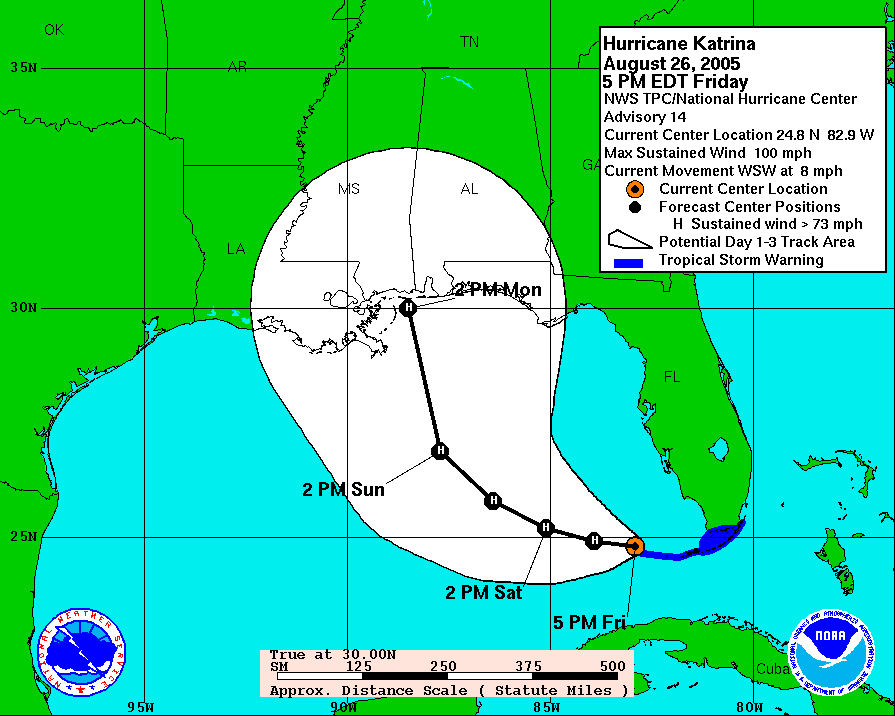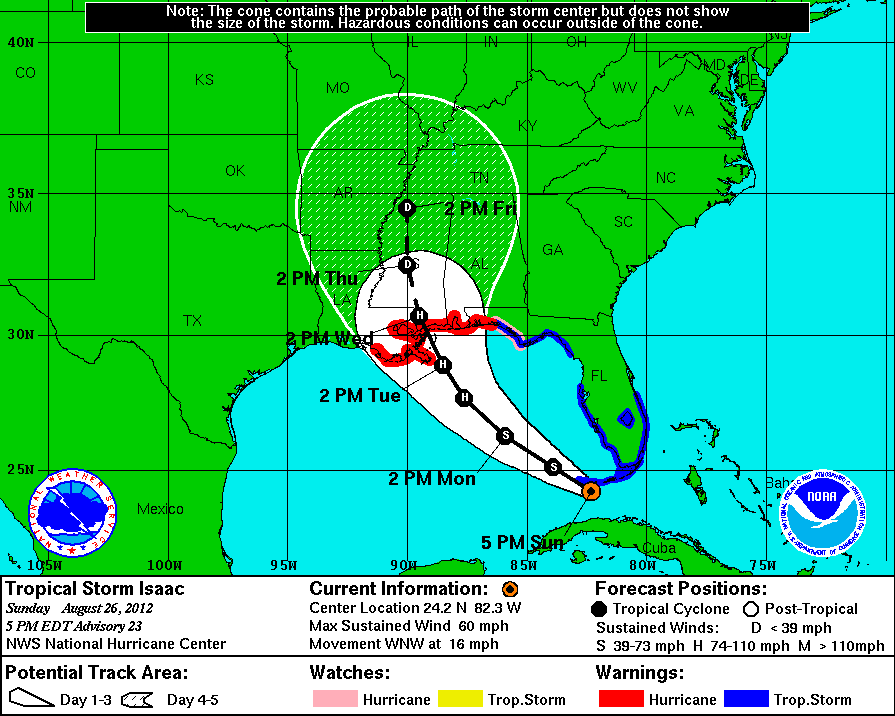 Now, I will note there are a lot of differences in the two storms, but for folks in Louisiana, Mississippi, and Alabama along the Gulf Coast must be thinking 'not again'.  Exactly 7 years ago Katrina was a little more north than Isaac is today, and more importantly was already a Cat 2 hurricane with winds at 100 mph.  The forecast tracks for both storms head right over the very warm Loop Current in the Gulf.  This area usually promotes more rapid intensification of the storms, and with Katrina this proved very true.  In a 12 hour period from 10pm on August 27 to 10am on August 28, Katrina went from a low end Cat 3 Hurricane with winds at 115mph (Cat 3 is 111-129mph) to a strong Cat 5 with winds at 175 mph.  The official forecast for Isaac makes it into a strong Cat 2 at landfall, with a one or two models pushing it to near Cat 3 or major hurricane status before landfall.
Here is the latest 0z run of the tropical models for Isaac:

What is interesting to note is the official forecast track is the thin black line that makes landfall in Mississippi is the official forecast track.  According to this graphic most of the model guidance has Isaac going to the left (west) of the official track.  I will note that the European and Canadian models are still both right (east) of the official track.  Since there is still a decent spread in the model guidance by day 3 for this storm, the forecast fan does cover an area from Central Louisiana to the western portion of the Florida panhandle.  This is the same area that is under a Hurricane Warning.
Below is a wave height forecast for 10am on Tuesday morning.


This is not good news for folks in the northern Gulf, or along the Northern Gulf Coast as all that extra water has to go somewhere.
Now, I am not in the business of forecasting oil or gas prices, but it is interesting to note the location of where we have most of our oil interests in the Gulf of Mexico.


Thanks to colorado.edu for the image.